Kingdom Crossroads Park
All of your works will thank you, Lord, and your faithful followers will praise you.

Psalm 145:10
For decades, the parcel that was 20 Valley Road has been not utilized for any specific purpose and the land has simply become land that's eroded due to the effects of storm water that has flowed from Main Street in Conestoga. Kingdom Crossroads desires to be used in a redemptive way for that piece of property as it became a part of the greater Kingdom Crossroads property at 3113 Main Street. Both pieces of land have become one deed of property.
With a plan and vision for the previously neglected acre of land provided to him by the Holy Spirit, Joe got to work designing the outdoor area with the community in mind. Not only did he want to build a serene environment in which to worship, he wanted his plan to involve everyone in the surrounding area. For this reason, he decided to design a playground with a "rugged, outdoorsy theme" unlike anything else in the local community to facilitate exercise and growth for the children in the area.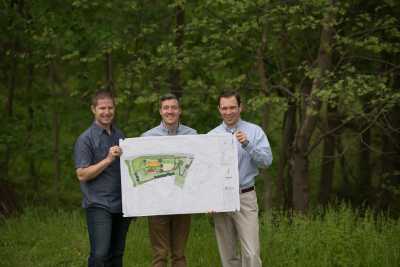 "We are excited to have this space where we can get outside the walls of the church," explains Ryan Lapp, a pastor at Live with Purpose church, "and worship God together in the beauty of his creation."
Kingdom Crossroads was wholly designed with God's hand through Joe's actions, and the Park at Kingdom Crossroads is the final piece in creating a complete environment dedicated to the celebration and worship of the land and life God has given us. Through continued prayer and reflection, our team is excited to bring the Park at Kingdom Crossroads to life in 2019 and give a beautiful, family-friendly environment back to the community here in Conestoga.
---
---